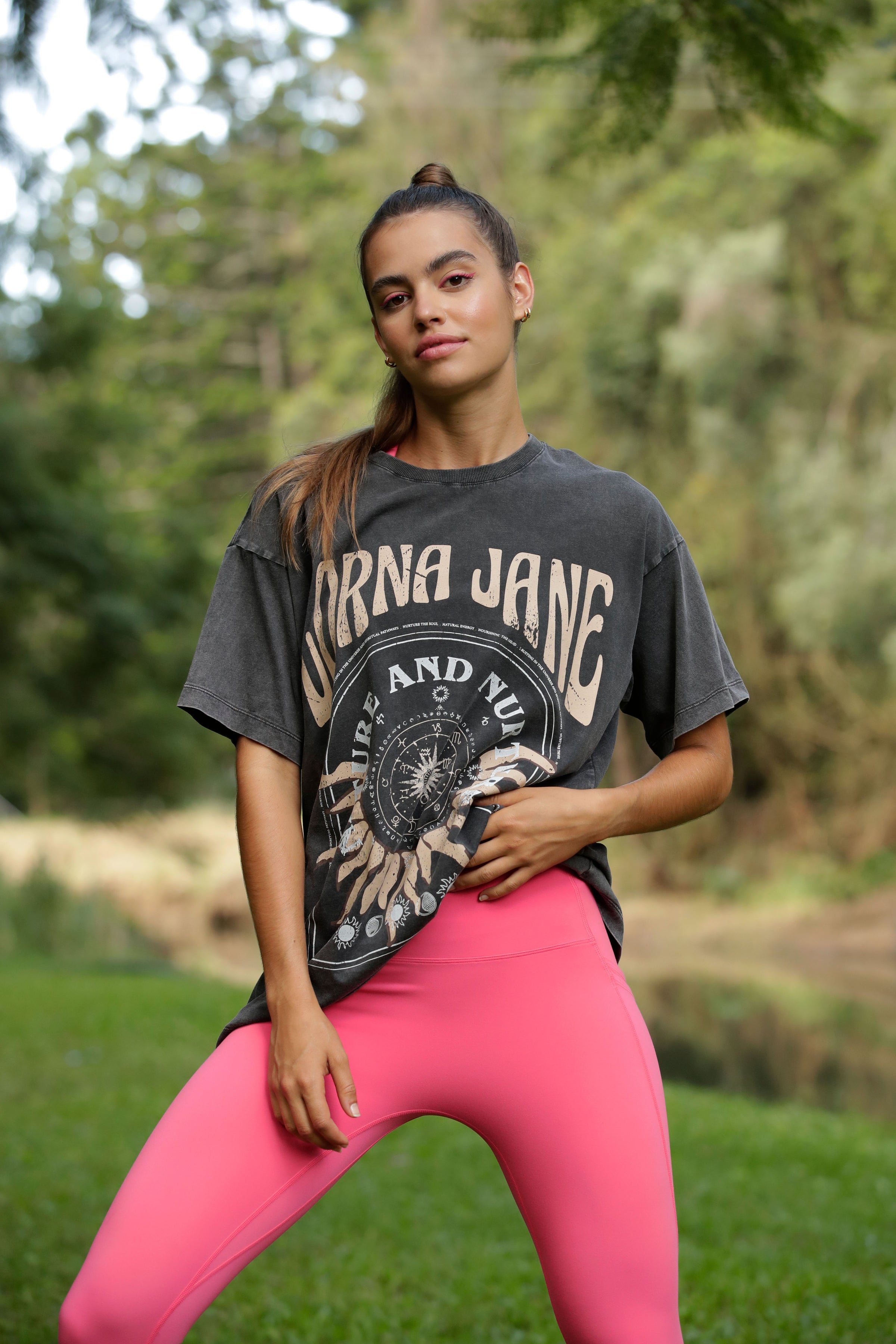 Shop Lorna Jane Activewear In The UK
13 products
Made With Love From The Creator Of Activewear
Lorna Jane is on a mission to empower and educate women to live a life they love through movement and self-confidence and we are totally here for that! From the woman who invented the term 'Activewear' 30 years ago, comes products that make you feel great and give you hugs and flexibility in all the right places.
We'd be remiss to not stock this glorious and fail-safe brand because the products are excellent and have easily become one of our customer favourites.

Founder, Lorna Jane Clarkson was an Aerobics instructor who recognised that there wasn't enough work out clothes on the market that were both flattering and inspiring for women. Most designs were dull and drab and we all know that putting on a great outfit can change your outlook on life. She began by cutting up her favourite swimsuit to see how it was made and thereby creating the first piece of Lorna Jane Activewear. Her students took notice of her fun clothing and asked for custom orders. It wasn't long before demand was high and she opened her own shop in Australia. Lorna Jane Activewear is now Australia's leading activewear brand and Lorna herself is one of the most awarded activewear designers. 
Lorna Jane believes that being healthy doesn't mean eating less, finding more time, or trying to look like anyone else. They make products that support you on your journey to becoming stronger by making you feel good about who you are now rather than who you want to be, so prepare for some confidence-building, body-loving, all-round best workout clothes ever.
And bonus: If you're looking for leggings that don't move - look no further. These babies stay up! Whether you're hitting the trails on a 10k run, or settling deep into Savasana you can depend on these leggings again and again and you'll soon be buying more than one pair. We love the versatile styles - like leggings with pockets! - and the cute little hearts that are hidden on all the clothes to let you know they were made with love. One of our favourites is the Amy Pocket Phone leggings, not only for the bright and beautiful solid colours, but because of their sweat-wicking and breathable fabric. And we mentioned pockets, right?! Fitting everything you need as you head out - keys, wallet, phone.
Tops and t-shirts are breathable and depending on the style can be great for yoga, barre or pilates practice, hitting the gym, or pounding the pavement. We especially like the Empower Active tee paired with the Pammy Sports bra for our WEDOYOGA Flow classes, but any combination will likely be a win. 
We understand that some might consider the price point high, but we believe that products of quality are better than quantity and once you have a pair of leggings you love that can withstand workouts and tough washes, you don't need to continue buying the cheap brands that bobble, fade, and lose their stretch. So these leggings are not just your favourites now, they're your favourites for life. On top of this, they have green credentials that you can be proud of so you know you're not buying into fast fashion, but buying fashion that helps you move fast.
Many fashion brands use multiple factories that are owned by different companies to make their products - and often this is purely based on cost, quality, or speed of manufacture - without any care to the environmental impact this has. At Lorna Jane, they've maintained long-term partnerships with one dedicated and ethical Australian-owned manufacturing group. This approach gives them more control over quality as well as working conditions. 
Not only do they make products from recycled material - like the Ultimate Eco Full Length leggings - and continue to commit to more product innovation in this area, but they also know that combating climate change starts in their own back garden. So at Lorna Jane they are transitioning all single use plastics out of their business and product, using more recycled fabrics in designs and source reusable and sustainable materials whenever possible. Their professional printing uses soy-based inks, water based varnish, chlorine free pulps and have SC and ISO credentials in environmental sustainability as well as Responsible Forestry Practices. And this is just the start. Internally, they do a whole lot more which makes them aligned to our core values at WEDOYOGA.
We love Lorna Jane's commitment to sustainability and their ever-evolving and improving products feel great in texture as well as giving you those warm fuzzies inside knowing you've bought a product that is against fast fashion. The logo is inspired by Lorna Jane's initials (LJ) and the trio of symbols represents the brand's ethos of Move, Nourish, Believe - Move your body every day. Nourish from the inside out. Believe that anything is possible. - We love that and live and breathe a similar philosophy in our studio. 
Their butter-soft feel and shape-fitting design flatters the body and makes movement easy and comfortable. Seems are cut to give you a flattering shape while maintaining durability in all the right places. The high-waist styles cinch without being overly tight and you can rely on the sizing to be true. Our customers love these and are often back for more.