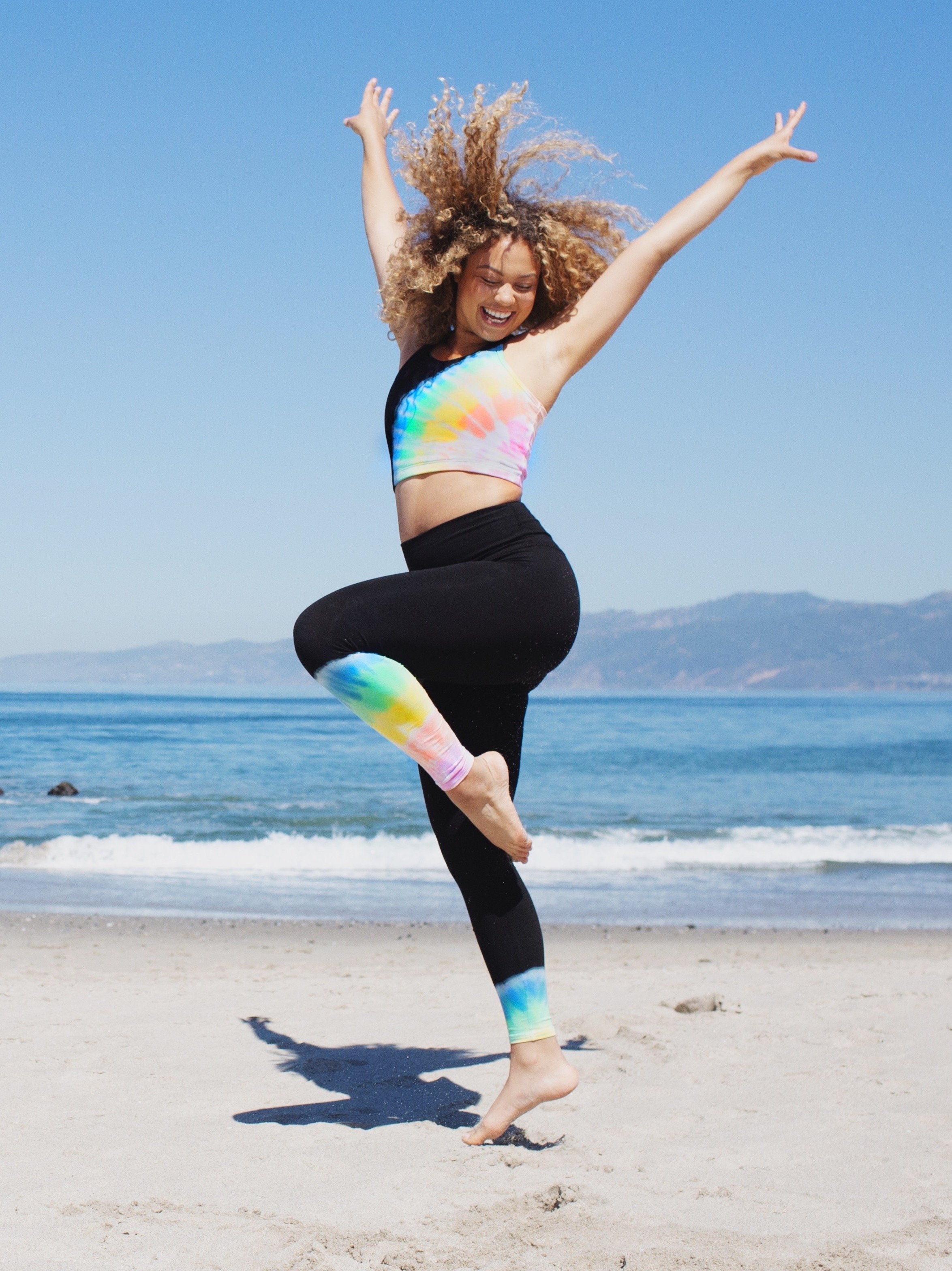 Buy Electric & Rose Activewear In The UK
19 products
A California Favourite
Born in Venice Beach, California from the surf, yoga and music culture, Electric & Rose are all about functional style, taking you seamlessly from the mat to the street. Their iconic hand-dyed matching tops and leggings make a statement, and the soft fabrics and amazing stretch supports not only your downward facing dog, but your lazy-Sunday-asana too. 
The tie-dye prints were inspired by E&R owner, Erin's, love of shibori - a Japanese resist dyeing technique that produces stunning and intricate patterns. What began as a hobby creating gear for friends and family soon became the unique foundation that Electric & Rose is known and loved for. We love how it stands out on the rack with beautiful colours and striking presence. 
Because each piece is hand-dyed, every item of clothing will have colour variations, shading, and/or textural irregularities. So each pair of leggings, bra, or sweatshirt will be imperfectly perfect and a one-of-a-kind garment that is as unique as you. So while they may be at the higher end of the price spectrum, we think it's worth it to get an exclusive print that was made just for you. And their colour and style combinations are often limited editions so once the pattern is sold out, it's gone! 
Made with 90% cotton and 10% spandex, the leggings and bras are sure to give you comfort either on the mat or on the couch. The t-shirt feel and quality of these products not only ensures you are cosy, it means they are durable and can be machine washed on a cool setting and tumble or hung dry. We love the vintage feel of the design - especially on the sweatshirt which is great to pair with either matching leggings, jeans, or with a pair of joggers. Wherever you go you're sure to get compliments or see heads turn when wearing these garments. 
We chose them to be part of the family, not only because of the amazing collection of colours and lux-feel of their clothes, but because all products are handmade with natural fibres using sustainable dye processes. They use recycled packaging material and never let any fabric go to waste - often resulting in hair scrunchies and accessories (who doesn't love a scrunchie?!) They also are committed to continually searching for ways to take care of our beautiful Earth. Like us, they believe that being eco-friendly isn't ticking a box, it's a responsibility we all have. If we want to keep our planet happy and provide for the future, we need to take action and live and buy responsibly. This coupled with their values of local community and inclusion makes us very happy and proud to bring this amazing brand to you.