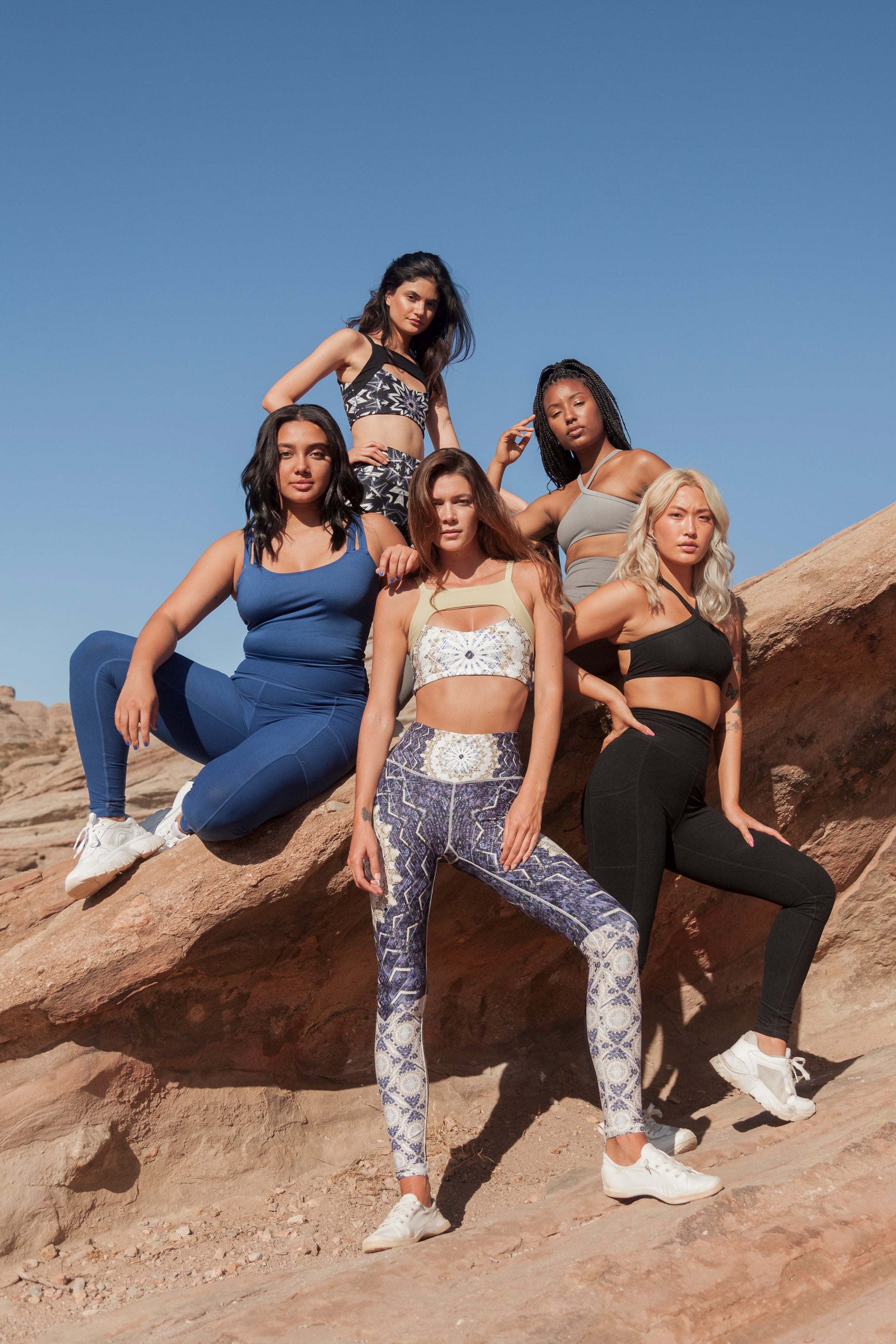 Shop Wolven Activewear In The UK
5 products
Make Sustainability Sexy™ With Wolven
Wolven is about the community it creates: People who care about the earth coming together. They share an appreciation for art, celebrate differences, and strengthen the bonds between one another. By making sustainable choices and honoring the earth, we move forward.
Wolven started with a Hindu Indian father, Pakistani Muslim mother, Buddhist Sunday school, and nightly meditation, Kiran Jade (Wolven's founder and CEO) exemplifies the beauty that exists in celebrating differences. Jade also adopted a fascination with fabrics and textiles at an early age. "My mom wears pretty much exclusively eastern clothing — she would go with her to fabric markets to choose fabrics for her outfits and have matching clothes sewn. I loved the idea that I could make things custom that actually fit," says Jade. After art school and alongside her partner Will Ryan, she set out to create a brand that empowered differences — shapes, sizes, cultures, identities — as sustainably as possible. "Ultimately, my goal was to provide a home for everyone to feel confident and empowered while respecting the planet," explains Jade. Together, they began to challenge industry norms — like the neverending wardrobe, unethical practices, and of course, the sacrifices made by our planet. With that, Wolven was born.
Wolven Believes In Sustainability — Diversity — Body Positivity — Creativity/Artistic Appreciation
Wolven's founders are artists, and create patterns on their canvasses before transferring them to designs. This is a multi-step process, which includes gathering inspiration from our cultures and surrounding, and in many cases, taking photos. Their inspirations vary from the plants around us to patterns on their family member's henna (South Asian natural dye used for temporary body art), to wilderness adventures.


Every product begins as a canvas. Inspiration is found everywhere — from a quick photo snapped while on a hike to the henna used in family celebrations — and used in creative pattern making. We then adapt our creations to the ebb and flow of the human body and the clothes that adorn it.
Their Mission Sustainability
When they say they want to Make Sustainability Sexy, they truly mean it. They are a team of artists and activists, working to reduce the negative footprints on our earth. Their sustainability practices are rooted in mindfulness and the power of choice — from day-to-day decisions to major resolutions. They believe that a collective effort of sustainability has the ability to change our trajectory towards a healthier, more verdant planet. See? Sexy.
If you're looking to fall in love with a sustainable AND stylish activewear brand, then look no further!  Featured in publications such as Vogue, Women's Health, and InStyle (as well as online sites such as Buzzfeed, Refinery29 & more) Wolven get the stamp of approval from certified fashion sources, who love them not just for their beautiful pieces, but also for their incredible and ethical approach to sustainability. 
Sustainability
Wolven's sustainability practices are rooted in a deep appreciation for our earth and the support it lends to all beings. Below are just a few examples of the measures they take.
Carbon Off-Set Initiatives
It's not enough to operate as sustainably as possible, so they also invest in programs that offset the emissions they've created. To address their carbon footprint they've partnered with Climate Neutral. This means measuring their greenhouse gas emissions footprint, purchasing carbon credits to offset that footprint, and implementing plans to reduce emissions moving forward.  
This means your Wolvens are carbon–neutral (yay!). These carbon credits support a range of projects such as rainforest conservation and landfill methane capture.
Rest assured that Wolven is doing everything they can to deliver a product with the lowest possible impact.