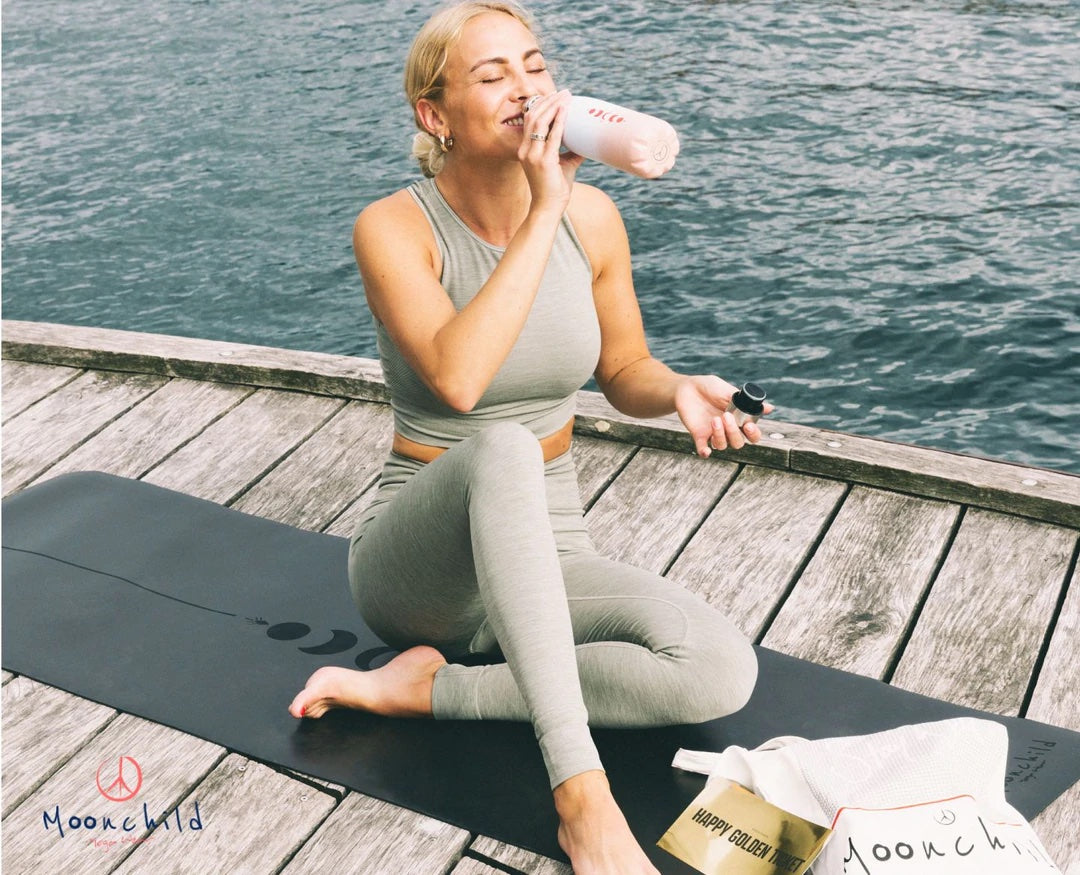 Shop Moonchild Activewear In The UK
5 products
Athleisure Wear, Designed By Women, For Women
Moonchild Yoga Wear is a one-woman owned athleisure brand, founded by Louise Wang Nielsen in Denmark in 2015. When designing, Lousie takes inspiration from the colours and lights of Scandinavian nature and blends these influences with beautiful and feminine minimalism to create the Moonchild style.
Having fallen in love with her daily yoga practice, Louise dreamt of combining her two passions: fashion design and yoga. Leaving her studies, leaping off the beaten track,  Louise set out to begin realising the dream of what would become Moonchild Yoga Wear.

Her love for nature doesn't end within the design phase though and is present throughout the production of each Moonchild piece. 
Louise selects only the softest fabrics and sustainable materials for her pieces. This ranges from organic cotton and regenerated fibres like Q-NOVA to recycled polyester made from plastic waste. Not only do these look and feel amazing, but each serves the earth in its own way: organic cotton reduces energy and water usage and recycled material reduces the amount of plastic in our oceans. Moonchild aims to continue increasing their usage of sustainable and recycled fabrics.
They also take care of the little details. From using 100% compostable mail bags to tags made from recycled, plantable paper and much more. No sustainable effort is too small for Moonchild! 
Moonchild's ethics extend beyond their environmental work. They have worked with charities and organizations that are doing incredible service around the world. Moonchild worked with Action Child Aid (Aktion Børnehjælp) helping to fund education for poor children in India. Moonchild donated a cut of the proceeds from sales of yoga gear, and so many Moonchild shoppers helped raise an amazing sum towards an amazing deed.  
Since 2018, Moonchild has been working closely with Women for Women International, helping women survivors of war rebuild their lives. Since 1993, the charity has helped more than 462,000 marginalised women to overcome the horrors of war and work towards a better future for themselves and their families. Each year Moonchild empowers an increasing number of these women through a year-long training programme. The women are educated on earning and saving money, women's rights, caring for their families and speaking up - making their voices heard both at home, and in their community. This training programme is an incredible way that Moonchild is helping to transform lives and create change for a better future. 
Moonchild is a brand we are proud to stock, and you can be proud to wear. Their products look great, feel amazing and support those who need it the most. The cherry on top is that they are responsibly manufactured, with love for the people who made them too.